Football:
a) Friendly Football matches were played during ECA classes by the students of grades 3,4 and 5 and the students of grades 6 and above against Southern Sports Academy to encourage, prepare and motivate the students for bigger challenges. b) Senior school team played two matches against Junior CCFC team at CCFC on 2 consecutive Saturdays in the month of August 2016. c) CIS Senior Football School team won the Confluence 2016 Football Trophy.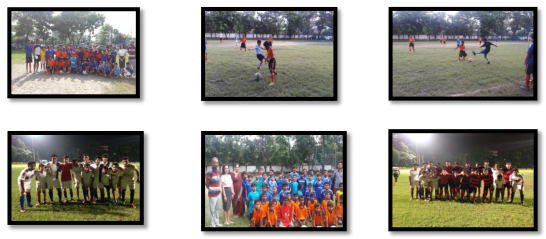 Basketball:
a) School Basketball team won the Confluence Basketball Trophy. b) School Basketball teams represented the basketball tournament at M.P. Birla School from 7th – 11th Nov 2016 and were the CHAMPIONS of the Tournament. c) The CIS Junior interschool basketball team won the Interschool Basketball tournament Championship held at CIS grounds from 15th to 18th Nov 2016.
Taekwondo:
CIS Taekwondo team is all geared up to participate in the a) Asia Open Taekwondo Championships on 26th Nov 2016 and 27th Nov 2016.
Robotics:
a) CIS Robotics students participated in World Robotics Olympiad held at BITM on 22nd and 23rd Oct 2016. This was a first of its kind Olympiad where our Robotics students were encouraged to participate, though they could not qualify to the next level but gave a good competition to all the 25 teams.
Abhivyakti – The Heritage School Junior Fest
a) Held in Heritage School campus on 11th and 12th Nov 2016. CIS students participated in various events like Swimming, Football, Elocution, Mrittika, Potokatha, Mime, Pebble Art, Mangalacharan and Harmony. b) Football – We lost in the Semi Finals but our team was declared the best team and a special mention of Rahil Nafees who saved the team 6 penalty shootoutts which was commendable for this newly formed Junior CIS Football Team. The Abhivyakti Fest was a brilliant platform for all children to showcase their talent and put their skills to the test. Our School Football Team comprising of only class 4's and 5's put up one of the best performances seen in the entire Football Tournament. All other schools were in disbelief with the standard of football our children played. Special mention must be made of our Goalkeeper Rahil Nafees who saved six penalties in the penalty shootout, Veer Nadir Babaycon who was undoubtedly the best defender in the tournament, and Finally our Captain Yashvardhan Agrawal who had nothing short of a perfect tournament. Although being the Best Team in the tournament, we lost in the Semi-finals due to a penalty shootout. I am very proud of each and every boy in the team, the stuck to the plan and executed every detail we worked on perfectly. Their discipline on and off the field was very good and they kept the schools name flying high. I am very happy and impressed with their performance. The first day I saw them play when I joined in July, and the game they played in the Fest in November was unbelievable. They have developed in a very short span of time very well and I can say with Guarantee, that the Future of our School Football Team is very good. I would like to thank the schools management for giving me this opportunity to work with these children. They have given me great joy and have made a special place in my heart. I wish the boys and the school all the very best in all that we do. Thank you and Best Wishes, Yan Law, Football Coach We secured the following positions in the Abhivyakti Fest: a) Boys Swimming Free Style – Kushagra Kanoi (2nd Pos.) b) Boys Relay – CIS (2nd Pos.) c) Potokatha – CIS (3rd Pos.) d) Mrittika – CIS (2nd Pos.)